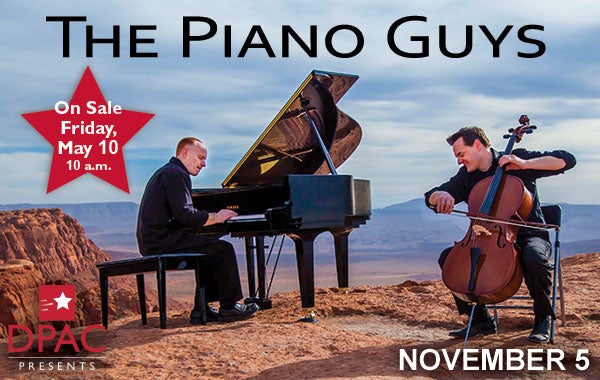 Thu,

May

2
The Piano Guys coming to DPAC on Nov 5
May 2, 2013 (Durham, NC) — The Piano Guys, who have performed their classical crossover music on The Tonight Show with Jay Leno, The Today Show, and Katie and have sold out theaters across the country, come to DPAC, Durham Performing Arts Center, on November 5.
Tickets go on sale Friday, May 10 at 10am:
• Online at DPACnc.com
• DPAC Ticket Center: 919.680.2787, 123 Vivian Street, Durham, NC
• Ticketmaster.com / Ticketmaster Charge by phone at 800.745.3000
Friends of DPAC members may place their orders on May 8. Joining Friends of DPAC is free, and you can register at http://www.dpacnc.com/fod.
"It's not every day that you can catch a rising star but this new show with The Piano Guys is just that, a chance to see one of music's biggest new sensations on their way to the top," said Bob Klaus, GM of DPAC. "DPAC's intimate set-up is perfect with no seat for this show farther than 110 feet from center stage. This show is selling out from coast-to-coast, and it's exciting to be part of their first-ever appearance in the Triangle"
Hailing from Utah, The Piano Guys became an Internet sensation by way of their immensely successful series of striking self-made music videos; their YouTube channel boasts 1.6 million subscribers. But it's their highly original blend of classical music with pop that brought them to their major label debut album, The Piano Guys, released on Sony Masterworks in 2012. The album topped Billboard's New Age and Classical charts. The album features the imaginative mash-up arrangements that The Piano Guys are already famous for, including sources ranging from Michael Jackson to Mozart, The Bourne Identity to David Guetta. It also includes an original song and innovative takes on hits by One Direction, Adele and Christina Perri.
Their most recent video "Mission Impossible" featuring YouTube violin sensation Lindsey Stirling, continues to build momemtum with over 1.5M views in a month. It finds the band and Stirling in a spy thriller as covert operatives while playing their unique take on this famous musical theme. The Piano Guys 2 is set for release on Sony Masterworks May 7, 2013.
But just who are The Piano Guys? Actually, there's only one piano player, Jon Schmidt, and one other instrumentalist, Steven Sharp Nelson, on cello, and they have played together for twenty years. Yet the other three - Paul Anderson, Tel Stewart and Al van der Beek - are equally significant members of the group. The inventive cinematography of Stewart and Anderson teams with van der Beek's studio prowess. The Piano Guys have connected quietly but emotionally with a massive audience.
The spectacular Piano Guys videos, which have so far netted over 222 million YouTube views (and 500,000 new views a day), are essentially divined by Stewart and Anderson. "Jon had built up a fan base for 20 years, and we used that as a springboard for getting exposure," Anderson notes, "but it's all about the merits of the videos, and share-ability. People see them and then share them with their friends on Facebook, and before you know it, they can take off."
And sure enough, The Piano Guys have over 530,000 Facebook fans who have shared videos like "Michael Meets Mozart," which features over 100 tracks of cello textures, including a deep bass drum sound created by tapping on the cello body; a shaker sound made by Nelson rubbing rosin on his bow; and a record-scratch noise caused by his scraping a quarter on the strings. "Michael Meets Mozart" is on The Piano Guys debut CD, as is "Cello Wars," the ambitious video which resulted from a six-month production required to realize its Star Wars-inspired light saber/cello bow concept, since rewarded by over 12 million YouTube views.
"Lots of parents are using our music to show their kids how fun classical music can be and motivate them to learn instruments," says Schmidt. The Piano Guys' cover song mash-ups, adds Nelson, have become "a great way to introduce ourselves and make an instant connection with our audience as a classic spin on new stuff - and a new spin on classic stuff."