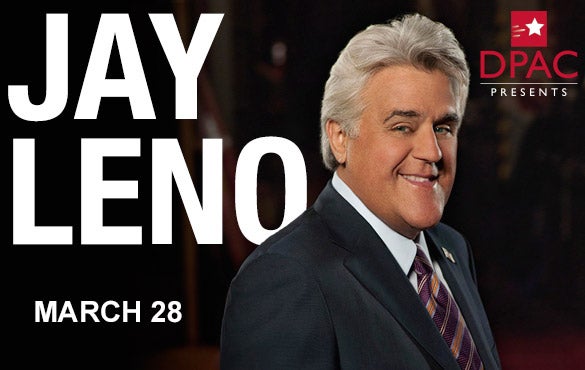 Mon,

Nov

11
"The Tonight Show" Host Jay Leno Coming to DPAC on March 28
November 11, 2013 (Durham, NC) – One of the country's premier comedians Jay Leno has performed hundreds of comedy shows around the United States for the past 20-plus years. Experience America's favorite TV personality when he comes to DPAC, Durham Performing Arts Center, on March 28, 2014.
Tickets go on sale Friday, November 15 at 10 a.m.:
• Online at DPACnc.com
• DPAC Ticket Center: 919.680.2787, 123 Vivian Street, Durham, NC
• Ticketmaster.com / Ticketmaster Charge by phone at 800.745.3000
Friends of DPAC members may place their orders on November 13. Joining Friends of DPAC is free, and you can register at http://www.dpacnc.com/fod.
Jay Leno – named America's Favorite TV Personality in the 2009 Harris Poll – had been America's late night leader for almost two decades before moving from late night to primetime in September 2009 and then returning to host "The Tonight Show with Jay Leno" in March 2010.
Jay served as the host of the Emmy®Award-winning and top-rated "The Tonight Show with Jay Leno" since 1992. His engaging manner enabled "The Tonight Show" to capture its time slot for a remarkable 15 consecutive years, while making the show one of the most valuable properties not just for NBC but in all of television.
Indeed, Jay's "everyman" style and personality have helped him earn millions of fans worldwide, people who relate to his personable style and work ethic. He has been touted as one of the nicest people in show business and the hardest-working -- a winning tandem for the man who says "Anyone can have a life - careers are hard to come by!"
"The Tonight Show with Jay Leno" experienced numerous highlights during its reign, including winning two Emmy® Awards. In 1999 and 2000, "The Tonight Show" took home the trophy for Favorite Late Night Show in the annual TV Guide Awards determined by voting viewers. Jay's personal highlights include receiving a star on Hollywood's Walk of Fame, being the first person to drive the pace car of all major NASCAR events, and setting several land speed records.
Jay is well known as an exceptional car aficionado and has garnered several Emmy®-nominations for his productions and expertise reflected on www.jaylenosgarage.com, the widely successful and world-renowned internet website.
Jay has authored two New York Times best-selling children's books, "How To Be The Funniest Kid In The Whole Wide World (Or Just In Your Class)" and "If Roast Beef Could Fly" (both from Simon & Schuster). His other book, "Leading with My Chin" (from HarperCollins), hit the bookstores in 1998. He also has published four versions of "Headlines," the compilation of books and desk calendars featuring his favorite funny newspaper headlines, and "Police Blotter," a book with more humorous newspaper clips involving police stories. (Book proceeds go to various charities).