Fri,

July

10
The Australian Pink Floyd
The BIG PINK- GREATEST HITS WORLD TOUR 2009 THE AUSTRALIAN PINK FLOYD SHOW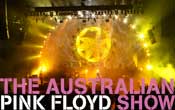 FOR IMMEDIATE RELEASE
THE AUSTRALIAN PINK FLOYD SHOW
USA & CANADA 2009 FALL TOUR
BIG PINK - GREATEST HITS WORLD TOUR 2009
October 17, 2009 @ 8pm

Featuring music from Wish You Were Here, Animals,
Dark Side of the Moon & The Wall plus much much more…
"They do Floyd better than Floyd"
DAILY MAIL, London
"The Best Tribute Show in The World"
THE TIMES, Los Angeles
"I defy ANY Floyd fan to not punch the air in delight.'
LE MONDE, Paris
"One of the most amazing concerts of my life"
EVENING NEWS, Manchester

Durham, NC –July 10, 2009– Best Tribute show in the world, The Australian Pink Floyd Show has announced they will bring their 2009 U.S. & Canada Tour to Durham Performing Arts Center on Saturday, October, 17, 2009 at 8:00pm. Tickets go on sale Friday, July 24 at 10am.
Ticket prices to see the rock legends range from $18.50-$48.50. Tickets can be purchased at the DPAC box office, 919.680.2787, and online at DPACnc.com. Tickets are also available through Ticketmaster including all Ticketmaster outlets which are FYE and Lowes Foods.
Chas Cole for CMP Entertainment, in association with CAA, presents a brand new Pink Floyd Greatest Hits stage production which will tour USA and Canadian venues this Fall.
The World Premiere of the new 'Big Pink Greatest Hits World Tour' will include jaw-dropping note-for-note musical excerpts from Pink Floyd's legendary albums Wish You Were Here, Animals, Dark Side of the Moon & The Wall. Fifty concerts, across North America, will be announced over the next few weeks.
This month, The Australian Pink Floyd Show, also began their sell out European Summer Festival tour following up on their recent record breaking ninety eight night World Arena tour when they celebrated the 30th Anniversary of Pink Floyd's seminal 1979 classic rock opera, THE WALL, performing the complete album in its majestic entirety.
Having already wowed audiences Stateside over the course of the last five years, this magnificent new 'Big Pink Greatest Hits World Tour' will be even bigger, even better, featuring an amazing new stage production including more animation, more lasers, more costumes & even more amazing inflatables.

The meticulous musical attention to detail – each and every facet of Floyd's sound reproduced note for note, sound for sound by the fastidiously talented musicians - has kept the fans coming back for more. And more. And more. Year after year! They just can't believe their eyes and ears.
'Comfortably Numb', 'Hey You', 'Wish You Were Here', 'Another Brick In The Wall', 'Dogs', 'Money', 'Run Like Hell', 'Time', 'Great Gig in the Sky' are just a few of over twenty classic Pink Floyd tracks that will be performed each night.

For further information please check out www.aussiefloyd.com
####