Thu,

Mar

4
The News and Observer Review: Fabulous but Frank
3.4.10- Read The News and Observer Review: Fabulous but Frank "Spring Awakening."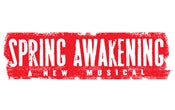 By Roy C. Dicks - Correspondent


DURHAM -- Why "Spring Awakening" won eight Tony Awards is evident from the first few minutes. This innovative work, fitting an indie pop score to a century-old play, mixes traditional theater with rock concert. Although its treatment of teen sexuality, child abuse and societal repression is frank, raw and dark, no theater devotee should miss the national touring production now at the Durham Performing Arts Center.
The show is based on Frank Wedekind's 1891 German play depicting teenagers dealing with their budding sexual urges. Innocent Wendla falls for rebellious Melchior, an outcast because he rejects authority and religion. Their sexual encounters are discovered, leading to dire consequences for both. Subplots follow apathetic Moritz, driven by his urges to suicidal thoughts, and manipulative Hanschen, coolly confident in his seduction of naïve Ernst.
Composer Duncan Sheik and lyricist Steven Sater have crafted arrestingly rhythmic, sparely structured songs expressing these teens' intense angst. The clever staging of director Michael Meyer and choreographer Bill T. Jones shows these outbursts as inner monologues, the actors stepping out of frozen tableaus of parents, teachers and clergymen, singing into microphones handheld or on stands.
The action happens at the center of an open stage framed by Christine Jones' institutional brick walls covered with pictures and objects of the times. The eight-piece band sits upstage, and some audience members are seated in stands on each side. The actors, along with four backup vocalists, sit among them when not onstage.
Kevin Adams' lighting design gives the show its uniquely mesmerizing look. Stark shadows play across the set in lurid colors, brilliant beams single out individual soloists and leafy patterns cover the stage during the few warm moments. Most impressively, multicolored neon tubes on the walls and rows of incandescent bulbs dangling overhead change in intensity to the music's every mood.
Jake Epstein makes a brash, dashing Melchior, matched by Christy Altomare's loving, faithful Wendla. Taylor Trensch devours the stage with his hyperactive, oddly endearing Moritz, while Andy Mientus adds frightening Nazi foreshadowing as the wily Hanschen. Angela Reed and John Wojda deserve special recognition for distinctly varied portrayals of all the adults.
As with most rock singing, the words are not always clear, a particular loss for these intelligent, witty lyrics. The clinical production style restricts audience response to admiration more than enthusiasm, but there's no denying the creativity involved.
Brief nudity, boldly simulated sex scenes and harsh language will not be suitable for children and the easily offended, but all others are encouraged to check out this latest trend in Broadway fare.