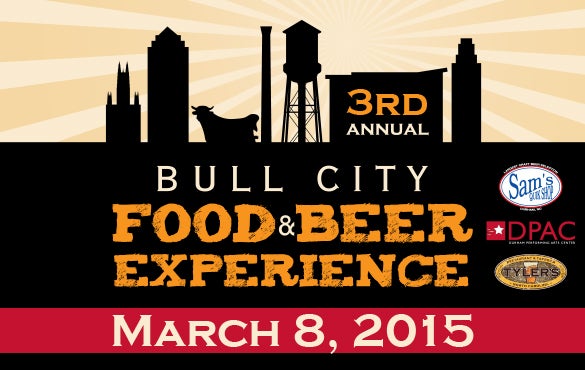 Mon,

Oct

27
Third Annual Bull City Food & Beer Experience Coming March 8
October 27, 2014 (Durham, NC) – DPAC, Durham Performing Arts Center, partnering with Tyler's Restaurant & Taproom and Sam's Quik Shop to host 3rd Annual Bull City Food and Beer Experience!
What: Bull City Food & Beer Experience - Three local partners collaborate to create a true Bull City Experience with a national twist! DPAC, Sam's Quik Shop together with Tyler's Restaurant & Taproom founded the Inaugural Bull City Food & Beer Experience to stimulate and educate your palate and mind through pairing of local food showcasing 30 Durham restaurants and unbelievable beer from 30 premier craft / import breweries. In addition to the food & beer pairings and after rave reviews and grand popularity we are bringing back the Onstage Experience! This year we will focus on North Carolina and its many splendid offerings. As you mingle on stage and experience DPAC from a grand perspective that few get to experience, you will have the opportunity to sample a variety of food and drink from local vendors and meet the people behind them.
When: March 8, 2015, 4pm-8pm.
Where: DPAC, Durham Performing Arts Center, 123 Vivian Street, Durham, NC 27701.
Who: Fans of Food & Beer.
Tickets: Tickets go on sale Saturday November 1, 2014 @ 10AM.
• Online at DPACnc.com &/or bullcityexperience.com
• DPAC Ticket Center: 919.680.2787, 123 Vivian Street, Durham, NC
• Ticketmaster.com / Ticketmaster Charge by phone at 800.745.3000
Benefiting: This event is a fundraising event to benefit the ELLERBE CREEK WATERSHED ASSOCIATION (http://www.ellerbecreek.org/).
Friends of DPAC members may place their orders on October 31st. Joining Friends of DPAC is free, and you can register at www.DPACnc.com/fod.
Admission into the Bull City Food & Beer Experience includes:
• Souvenir Glass
• Food sampling from 30 of Durham's finest restaurant's & Beer Tastings from 50 breweries.
• Live Music on stage
• A limited number of Imperial VIP Ticket Holders will enjoy all elements of regular admission plus an exclusive event poster, exclusive T-shirt, 30-minute early event access, private access to VIP tasting lounge, VIP imperial laminate and specialty spirit, rare beer and wine tasting only available to Imperial ticket holders.
The mission of the Ellerbe Creek Watershed Association is to:
• Enable a living creek - a healthy stream in which an appropriately diverse group of native fish and invertebrate species thrive.
• Create a network of preserves and trails along which people can hike, bike, and walk from the Ellerbe Creek headwaters to Falls Lake.
• Build ties among Durham's diverse neighborhoods and communities using Ellerbe Creek as a link.
• Partner with the City and other groups that seek to move Durham to become a regional model for proactive urban stormwater management.
• Help adults, and especially kids, have the opportunity to enjoy and appreciate being outdoors in a learning and safe environment.
For additional information including participating Restaurants & Breweries please visit – BULLCITYEXPERIENCE.COM
• Date, time, prices, and all participants are subject to change.
• ALL ticket holders must be 21+ years of age & must bring valid photo ID. Event reserves the right to refuse service to anyone at anytime.