Fri,

Jan

15
WICKED Sets DPAC First-Day Sales Record
WICKED Sets DPAC First-Day Sales Record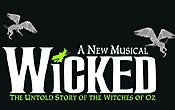 FOR IMMEDIATE RELEASE

WICKED Sets DPAC First-Day Sales Record
SO MUCH HAPPENED BEFORE DOROTHY DROPPED IN
Durham, NC – (January 15, 2010) – WICKED, Broadway's biggest blockbuster sets the record for first-day sales for DPAC, the new Durham Performing Arts Center. Tickets went on sale Friday, January 15 during an exclusive event from 8am-10am at the DPAC Ticket Center. Tickets became available through all avenues beginning at 10am. During the event, hundreds of WICKED fans were served coffee and bagels and won prizes awarded by MIX101.5's Jami Caskey. This marks the first-day sales record for shows in the SunTrust Broadway Series since DPAC opened its doors November, 2008. Over 51,000 tickets have already flown out the door. Tickets still remain for WICKED's highly anticipated 32 shows in Durham, but they're going fast.
"How exciting it is to witness the dedication that WICKED fans have for this limited engagement" said Peter Wallace, DPAC Box Office Manager. "This is a first for the region with obviously a great start."
Tickets available through the DPAC Ticket Center, online at DPACnc.com, by calling 919-680-2787, or all Ticketmaster outlets. Ticket prices range from $30 to $130.
###