Sat,

Jan

9
Wilco Sets Ticket Sales Record
Wilco Sets Ticket Sales Record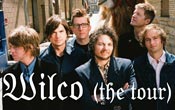 FOR IMMEIDIATE RELEASE
WILCO SELLS OUT
March 27 at DPAC
Durham, NC- January 8, 2010- Wilco sets DPAC, the new Durham Performing Arts Center record as fastest sellout ever. Tickets went on sale Friday, January 8 at 10am and sold out a mere 17 minutes later. Wilco, presented in Association with Cat's Cradle is scheduled for Saturday, March 27. This sellout marks the first sellout for 2010.
"We're honored to be one of the very exclusive dates on Wilco's 2010 world tour," said Bob Klaus, DPAC GM. "How exciting it is to start the New Year with such a positive response from area concert fans. The DPAC staff and I will work hard to make sure we're great hosts to the very lucky 2,700 fans who got tickets to this special show."
Wilco now joins an illustrious alumni group with the likes of B.B. King, Harry Connick Jr, Steely Dan, Jackson Browne and Willie Nelson to name a few of the incredible artists hosted by DPAC to have sold out shows.
Since its grand opening in November 30th, 2008 DPAC has been host to over 30 sell outs in its repertoire and is the winner of The Independent Weekly Best of Award for Live Theatre and The Herald Sun Reader's Choice award for Best Entertainment for the 2009 year. DPAC is also currently listed in the top 100 in Pollstar magazine's Top Worldwide Theater Venues.
####