Fri,

May

29
World Premiere CIRQUE DREAMS ILLUMINATION
WORLD PREMIERE KICKS OFF AT DPAC CIRQUE DREAMS ILLUMINATION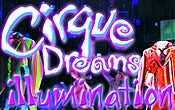 FOR IMMEDIATE RELEASE

See Everyday Ordinary...Turn Bright & Extraordinary
World Premiere Kicks off at DPAC
CIRQUE DREAMS ILLUMINATION
Created and Directed by Neil Goldberg
PRESENTED BY DURHAM PERFORMING ARTS CENTER
SEPTEMBER 15-20, 2009

Get ready for the World Premiere of CIRQUE DREAMS ILLUMINATION kicking off the brand new tour at DPAC. CIRQUE DREAMS ILLUMINATION comes from the creators of the groundbreaking hit and only show of its kind to ever perform on Broadway CIRQUE DREAMS JUNGLE FANTASY. Hailed as, "Dazzling! A reason to stand up and cheer", by the New York Daily News, CIRQUE DREAMS ILLUMINATION will ignite the Triangle when it performs at DPAC beginning September 15, 2009 for 8 performances only.
Tickets for this premiere event go on sale Friday, June 12th at 10am through the DPAC box office at 919.680.2787 and online at www.DPACnc.com. A group sales and press event is scheduled for Thursday, June 11th at 6pm in the DPAC Grand Lobby.
Journey with fascination into the depths of a city that ignites with illumination when Cirque Dreams imagination, suspense and theatrical innovation turns EVERDAY ORDINARY…INTO BRIGHT AND EXTRAORDINARY! Audiences of all ages will marvel as city dwellers reinvent familiar objects, balance on wires, leap tall buildings and redefine the risks of flight in a story filled with astounding occurrences. One of a kind artists populate the streets of this magical metropolis and breathe energy into its landscape with urban acrobatics and never before seen phenomenal thrills of disbelief. Cirque Dreams critically acclaimed dazzling costumes come alive to the sounds of jazz, ballroom, pop and more in this original score. CIRQUE DREAMS ILLUMINATION will surely live up to the Cirque Dreams brand of notoriety proclaimed "The grandest circus spectacle east of Vegas" by New York Magazine.
Created and directed by Neil Goldberg, Cirque Dreams Illumination is the latest brainchild of Goldberg's theatrical imagination and the Cirque Dreams brand of entertainment, creators of international performance, touring and Broadway sensations Cirque Dreams Jungle Fantasy, Cirque Dreams Holidaze, Cirque Dreams Pandemonia, Cirque Dreams Coobrila, Cirque Ingenieux and the first show of its kind at sea…Cirque Dreams & Dinner on board the Norwegian Cruise Line EPIC. Over 50 million fans have attended a Cirque Dreams show throughout the U.S. and abroad in the past 5 years.
"Cirque Dreams Illumination" is the company's 14th production since originating in 1993. "The Cirque Dreams brand of quality, originality and value combined with Broadway theatrics and international circus artistry continues to transcend imagination and appeal to audiences of all ages" says Goldberg. Critics and audiences alike have praised Cirque Dreams shows as "A whiz-bang family friendly spectacle" (LA Times), "Pure talent on a stage" (New Yorker) and "Executed to perfection." (Chicago Sun Times).
CIRQUE DREAMS ILLUMINATION is affordably priced from $25.00 to $60.00 and will perform 8 shows at Durham Performing Arts Center from September 15-20, 2009. The show will mark the first show of the SunTrust Broadway Series for the 2009-2010 season. Tickets are available at the DPAC box office, all Ticketmaster outlets, DPACnc.com or via phone at 919.680.2787.
Group discounts for 10 or more are available by calling our Group Services department at 919.281.0587.
For more information, visit: www.cirqueproductions.com.
SunTrust Broadway Series tickets are still on sale at www.DPACnc.com. Lock in the best seats at DPAC to be first in line for the biggest Broadway shows in the Triangle region for years to come. Season subscribers get the best benefits including the best ...