Fri,

Nov

26
YANNI IN CONCERT AT DPAC, DURHAM PERFORMING ARTS CENTER
11.27.10- YANNI IN CONCERT AT DPAC APRIL 12, 2011.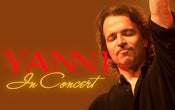 DURHAM, NC– Grammy nominated and World Music Award winning Yanni In Concert comes to the DPAC on Tuesday, April 12 with a concert that will give fans what they have been waiting for.
"For the first time ever, Yanni will perform in an intimate theater setting that will forever change his connection with his audience. At DPAC we believe in great live entertainment experiences and are proud to welcome Yanni for what will be another once-in-a-lifetime DPAC event," said General Manager of DPAC Bob Klaus.
His concerts are legendary. His live shows have amazed millions on every continent in the world. Now, Yanni returns to the USA and Canada with a concert tour that will give fans what they have been waiting for. Yanni as you know him best, performing his instrumental hits from the shows that have become famous around the world. Fans will witness Yanni and his world class musicians as they take the stage to perform his greatest instrumental hits made famous in his shows from The Acropolis in Greece, The Taj Mahal in India, The Forbidden City in China and The Royal Albert Hall in England.
For the first time ever, the live show will also introduce some of the music from Yanni's new album Truth Of Touch which is Yanni's first studio instrumental album in over 7 years. Truth Of Touch is the album that fans have been waiting for since Yanni's last studio album, 2003's Ethnicity. Truth Of Touch is more electronic than acoustic, says Yanni. "There are a lot of fresh sounds and rhythms on this album. I had a lot of fun making this album and you will feel a lot of Yanni on this but there is a departure from what you might expect."

Check back to www.Yanni.com for additional details, new music and tour updates.

####