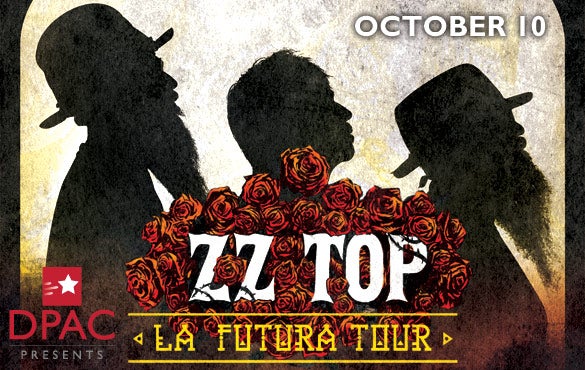 Sun,

Aug

19
ZZ Top Comes to DPAC on October 10
Rock and Roll Hall of Fame Superstars
August 20, 2012 (Durham, NC) — ZZ Top, "that little ol' band from Texas" comes to DPAC this fall. The sharp-dressed men- guitarist Billy F. Gibbons, bassist Dusty Hill and drummer Frank Beard will bring their red-hot Texas boogie and blues to DPAC on October 10.
The band is embarking on a string of U.S. dates on the heels of their latest CD. Their first new studio album in nine years is LA FUTURA, set for release September 11 by American Recordings, co-produced by Gibbons and Rick Rubin.
"We thought long and hard about what this album should be," commented Gibbons. "We wanted to recall the directness of our early stuff but not turn our backs on contemporary technology. The result of this melding of the past and the present is, of course, LA FUTURA."
Established in 1969, the Rock and Roll Hall of Fame-inducted trio owes their enduring appeal to their rootsy, hard-rocking sound. Their lyrics have established a unique catalog of pop-culture references. One of the best party bands on the planet, they have sung about fast cars, legs and cheap sunglasses, beer drinkers and hell raisers, all the while maintaining superior musicianship. They have sold millions of records over the course of their career, have been officially designated as Heroes of The State of Texas, have been referenced in countless cartoons and sitcoms and are true rock icons but, against all odds, they're really just doing what they've always done. Surviving over four decades by adapting and changing while remaining true to their Texas roots, this night at DPAC promises to bring the full groove, crunch and swagger that ZZ Top fans have come to love.
"This could be DPAC's biggest rock show ever. For super-fans of this Hall of Fame - Texas rock trio, there has never been a better place than DPAC to see these legends in concert. This is a show we've been trying to land for over two years and as they say....the house will rockin' this October at DPAC," said Bob Klaus, GM of DPAC.
Tickets go on sale August 24 at noon:
• Online at DPACnc.com
• DPAC Ticket Center: 919.680.2787, 123 Vivian Street, Durham, NC
• Ticketmaster.com / Ticketmaster Charge by phone at 800.745.3000
• Ticketmaster outlets including Walmart

Friends of DPAC members may place their orders on August 23. Joining the Friends of DPAC is free, and you can register at www.DPACnc.com/friendofdpac.