DPAC Volunteer Program - STARS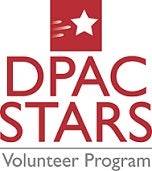 DPAC invites you to become a member of the DPAC Stars Volunteer Program!
DPAC Stars are ambassadors for the City of Durham are serve at DPAC events in the important role of creating great first impressions.
First created in 2009 in coordination with the Durham Convention and Visitors Bureau, DPAC Stars are a volunteer program of the City of Durham coordinated by the Audience and Event Services department at DPAC.
DPAC has hosted over 2,900 performances and had over 6 million guests through our doors. Each year, over 200 DPAC Stars devote their time and talents welcoming guests to Durham and DPAC, providing directions and distributing complimentary event programs.
The Volunteer's Role
Volunteers play many important roles at DPAC including:
Provide information and directions to guests as they arrive at the three main parking areas used for DPAC events.
Greet and assist guests at the entrances to DPAC's lobbies.
Pass out programs and information on upcoming events.
Key Benefits
Convenient online scheduling of shifts
Camaraderie with others in sharing time and service to the community
Option to stay and watch the show after completion of volunteer shift
Join Today!
DPAC Stars are such an important part of our legendary "DPAC Experience". We hope you will consider this chance to serve the greater Durham community and the world-class events that are coming to DPAC. Please complete an online application. Our Event Services team will review applications on an as-needed basis, and will contact you with additional information should you be selected as a volunteer.
.
More Info?
Each unforgettable DPAC experience will begin and end with the personal interactions with the DPAC Stars. We thank you for your interest in joining this essential volunteer team. Contact Bridget Sagolla-Slamp at volunteers@dpacnc.com if you would like to receive more information about the DPAC Stars program.