2018 Triangle Rising Stars Award Show & Program Recap
Eighth Annual Triangle Rising Stars Winners Announced
Mya Ison and Sterling Jones win scholarships and head to New York City to compete on a Broadway stage in the National High School Musical Theater Awards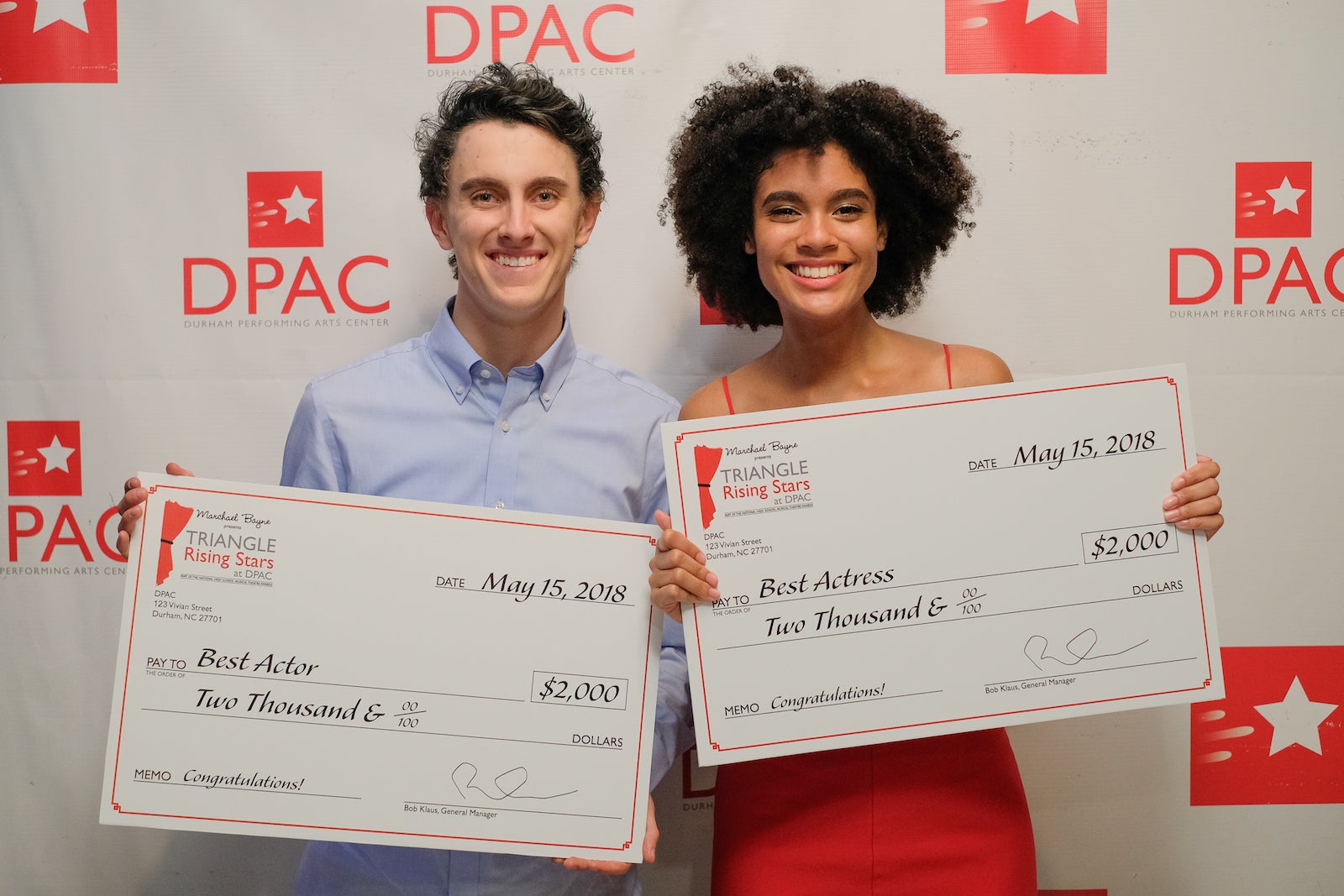 Along with Marchael Bayne, Theatre in the Park, and ABC 11, DPAC hosted this year's Triangle Rising Stars Awards onstage on Tuesday evening, May 15. The Triangle Rising Star Awards (TRS) is a program that brings together area high school musical theater students to perform together and compete against one another for educational scholarships. Last year's winners, Kaylee Terrell and Nicholas Kraft, presented the awards for Best Actress and Best Actor, while awards were also given for Best Ensemble and Best Musical.

Directed by David Henderson and choreographed by Freddie-Lee Heath, nearly 1,300 patrons witnessed the 20 finalists open with "Magic to Do" (Pippin). Brian Westbrook, Music Director and Arranger, led a full band to accompany the student performances. In a Broadway medley, each student had their own chance to shine in solo performances from their individual high school musicals. Two additional group numbers were added this year, with the female finalists taking the stage to sing "Cell Block Tango" (Chicago), followed by the male finalists performing "Jet Song" (West Side Story). After awards were presented, the entire cast of finalists closed out the evening with a moving rendition of "You Will Be Found" (Dear Evan Hansen).

The Best Actor and Best Actress were awarded on Tuesday night after the audition process began this past fall. Representatives from DPAC, ABC 11, along with 15 other judges attended high school musicals from area counties, including: Alamance, Chatham, Durham, Johnston, Orange and Wake Counties. Over 100 applicants auditioned for the program, which was narrowed down to 20 finalists, including 10 women and 10 men.

The Triangle Rising Stars Awards is a member of The National High School Musical Theater Awards (NHSMTA), a national program that unites high school musical theater awards programs from across the country under one roof. The two student winners are provided with $2,000 academic scholarships along with an invitation to represent TRS in an all-expense paid trip to the National High School Musical Theater Awards in New York City for one week, June 18 – June 26, 2018. The students will train with professional Broadway actors, directors and producers. Their week of coaching, auditions and rehearsals will conclude with each student's life-long dream at the Minskoff Theatre on Broadway. At which, a panel of judges will choose two students for the coveted Jimmy™ Awards for Best Performance by an Actor and Best Performance by an Actress.
Best Actress: Mya Ison (Enloe High School, Ragtime)
Best Actor: Sterling Jones (Broughton High School, Beauty and the Beast)
Best Ensemble: The Secret Garden – Cary High School
Best Musical: Ragtime – Enloe High School
Triangle Shining Star: (spirit award elected by top 20 finalists): Sterling Jones
Honorable mentions were also given to schools that had standout productions in areas of scenic design, orchestra, costume design and choreography:
For special recognition in Outstanding Costume Design:
Apex Friendship High School – Seussical The Musical
Panther Creek High School – Once Upon A Mattress
Cary High School – The Secret Garden
Apex High School – Cinderella
Broughton High School – Beauty and the Beast
For special recognition in Outstanding Set Design:
C.E. Jordan High School – Catch Me If You Can
Cary High School – The Secret Garden
Enloe High School – Ragtime
Sanderson High School – Once Upon A Mattress
Holly Springs High School – Barnum
Southeast Raleigh High School – Seussical The Musical
For special recognition in Outstanding Lighting Design:
Cary High School – The Secret Garden
Durham School of the Arts – The 25th Annual Putnum County Spelling Bee
Enloe High School – Ragtime
Green Hope High School – Sideshow
For special recognition in Outstanding Choreography:
C.E. Jordan High School – Catch Me If You Can
Enloe High School – Ragtime
Clayton High School – The Drowsy Chaperone
Panther Creek High School – Once Upon A Mattress
Apex Friendship High School – Seussical The Musical
Leesville Road High School – The Wedding Singer
Hillside High School – High School Musical
Broughton High School - Beauty and the Beast
For special recognition for Outstanding Student Orchestra:
C.E. Jordan High School – Catch Me If You Can
Athens Drive High School – In The Heights
Panther Creek High School – Once Upon A Mattress
East Chapel Hill High School - The Sound of Music